Ben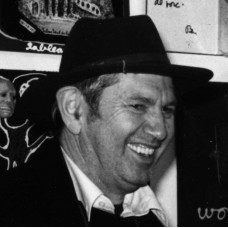 Born in 1935 in Naples, Italy.
Lives and works in Nice, France.
Comes to Nice in 1949 where he opens in 1958 "Le Laboratoire 32", 32 rue de L'Escarène, which becomes the "Ben doute de tout" gallery and a meeting place.
Realizes his first writing-paintings in 1958. Develops from 1958 to 1960 the idea of Total Art and from 1962 the concept of appropriation (signs "Les trous", "Les eaux sales", "Dieu", "Les vitres"…).
On the occasion of an exhibition at the Gallery One in London in 1962 where he lives fifteen days in the window, he meets Georges Maciunas who brings him into the Fluxus group.
Ben uses his gallery's space in order to spread the Fluxus group ideas as well as his relationship with other vanguard movements.
The shop was bought in 1975 by the Musée National d'Art Moderne and joined the collections of the Centre Pompidou in 1977 for its opening.
Ben played a central role to the divulgation of radical art ideas through his numerous publications.
Has participated to numerous Fluxus group exhibitions and many others all around the world.