Joël Hubaut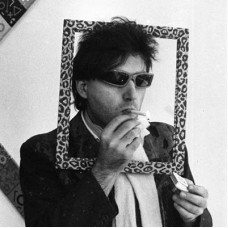 Born in 1947 in Amiens, France.

Lives and works in Réville, France.

Joël Hubaut is an eccentric figure and force in the contemporary art landscape. Out of bounds, making installations, videos, drawings, paintings and various objects, he is also known for his performances and his epidemic readings of sound poetry. It is a proliferating company that has been zigzagging for more than forty years in France and abroad. The shifted energy and the practice of mixing and the absurd that it extends to all kinds of unexpected manifestations in the art system or elsewhere testify to its singularity.

Hubaut builds transmedia exchanges and interactions, he is the mobile architect of a living, chaotic and mutant work.

He began his work in the late 1960s, stimulated by the writings of W. Burroughs, the music of Erik Satie, Actionism, Pop Art and the theoretical reflections of the group BMPT. Mixing all these heterogeneous sources, he directs his activity towards a hybrid and monstrous mix that he humorously describes as Peste-Moderne.

From 1970, he created his first signs of "epidemic writing" which invaded all media: objects-human bodies-vehicles-sites- etc ... developing a multidisciplinary and intermedia "rhizomic" contaminating process in the form of installations and of maneuvers. Joël Hubaut is an artist difficult to classify. Placing the epidemic and contamination (a premonitory act) at the center of a reflection on art and society, its recourse to parody and mockery can then take on a truly tragic dimension. He has already carried out numerous installations and performances in Europe, United States, Brazil, Canada, Russia, Mexico, Japan and China.