Peter Vogel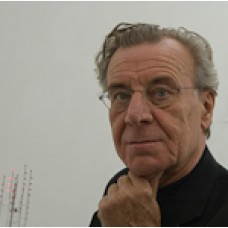 Born in 1937 in Freiburg, Germany.
Died in 2017 in Freiburg, Germany.
A physicist by training and then a cybernetic artist, Peter Vogel is known for his approach combining sculpture with electronics and acoustics. After starting his career in a neurophysiological research laboratory in Basel, the models he built to study physiological and psychological behaviors led him to imagine his first cybernetic objects. From 1969 and for more than four decades, he made electronic audio sculptures, imaginary models of electronic systems in the form of sculptures that react to the environment, and staged performances that respond and encourage viewers to discover patterns through repeated interactions. Using various electrical components such as sound generators, transistors, switches, amplifiers, speakers and photoelectric cells, Vogel manages to interweave the randomness of observer-dependent reactions with a determined operating memory to create a complex reactive network. He thus developed an aesthetic of interaction that draws the viewer into a process of random creation.
He has exhibited in numerous museums, galleries and contemporary art fairs in Europe, North America, Australia and Japan.
Four solo exhibitions by Peter Vogel took place at the Lara Vincy gallery: Sound and light sculptures in 1998, Interactive sculptures in 2003, Sound, light and movement in 2009, Interactive objects in 2013 and Interactive Sounds with his son Achim Vogel Muranyi in 2022.